2009 Pontiac G8 GXP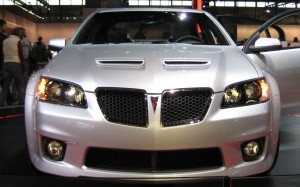 If only I had the money! Two weeks ago I was at the annual Chicago auto show drooling at the cool cars there. Being a G8 owner (I have a 2008 G8 GT), I had to go take a look at the new GXP. If only it was in my price range…
No one can complain when there's an LS3 V8 under the hood with a whopping 402-horsepower. When compared with my car, they changed up the front fascia and rear diffuser, used bigger fog lamps, and added new side and rear badges to denote that the car is the GXP model. This car also gets an optional 6-speed manual transmission that is not available on the GTs.
Performance wise, there's no question that this car is a fast ass 4 door machine. This car will blast off 0-60mph in 4.7 seconds, 0.6 faster than the GT.
In the car, another feature is available that us poor 2008 owners never had either, XM radio factory installed and ready to go if you use it. Pricing isn't set in stone, but I figure this car to come in around the $40K area, or about $8-$10K more than the GT.