Flat Top Grill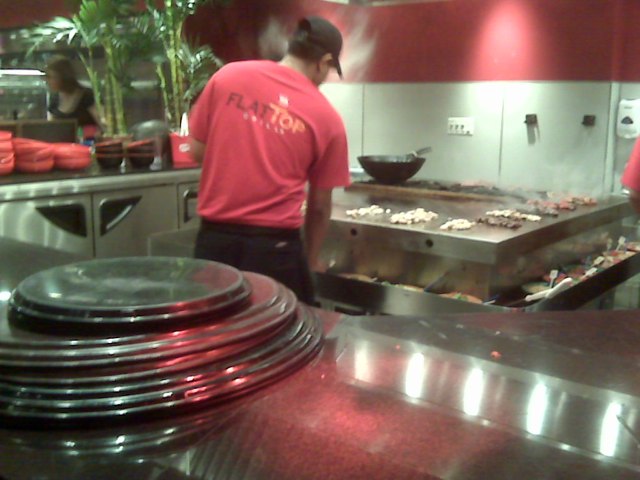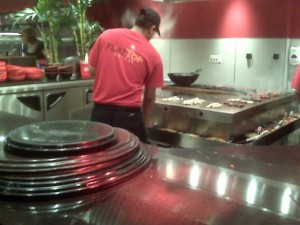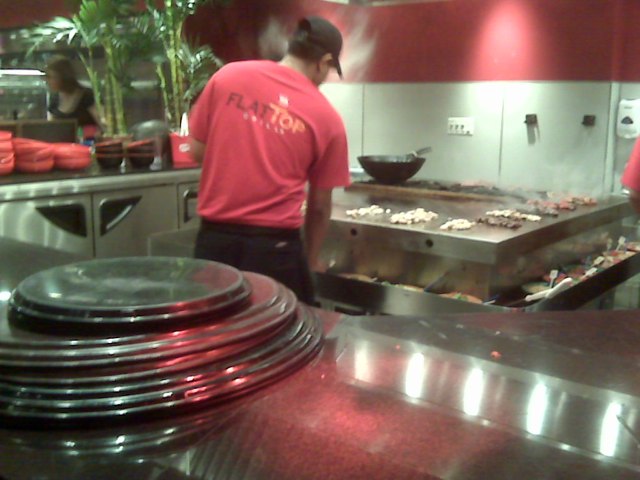 Having a craving for stir fry, last night I went with friends to an all you can eat stir fry place called Flat Top Grill.  This place is a little different than your typical restaurant.  It's a build your own dinner type of place.  Very unique and delicious food.  I mean, how could it not be? You get to decide what gets into your dish.  It's your choice on the type of rice or noodles, vegetables, sauce and meat.  You can design your bowl of food however you choose.
This place looks like they got their act together as it was fully packed with people waiting at the door so they can sit.  Been a long time since I have been to a restaurant that has this kind of business that is not some upscale place with reservation only seating.  It took us 30 minutes to sit down and we had reservations.  Not sure whether they overbooked the place, or had unexpected customers staying too long.  The prices are reasonable, $12.99 for 1 bowl or $14.99 for unlimited.  You can't go wrong with that!
For my first bowl I did a mix of white rice and yellow noodles. For the veggies I added some broccoli, carrots, pea pods, and a little onions. I stuck with just beef for the meat and a combination of sauces for flavor.  1 scoop of Asian Sesame Ginger, 2 scoops of Teriyaki, and 1 scoop Red Hot Chili Sauce (hot). This was a fantastic combo of sauce for myself.  A little mix of sweet with some hot to spice it up. This combo I will definitely try again.
For my second bowl, I stuck with just white rice, same vegetables and meat, and added some chicken into the mix.  I did another scoop of the Asian Sesame Ginger, a scoop of Peanut and a scoop of Teriyaki.  Not hot sauce this time.  It ended up far too sweet for my tastes, even though I did manage to eat most of it before I was full and stop stuffing myself.
If you planning on making a trip to try out the food, don't forget to add the blue stick to get the optional pita bread they have. It's delicious! Heck throw in 2 sticks so you can get to pieces of it :). They have several different kinds of color sticks that can modify your order.
Overall, I have been there 3 times and have enjoyed it every time.  Two big thumbs up from me. For more information on locations and menu items, visit their website, www.flattopgrill.com