My Mini Kitchen Update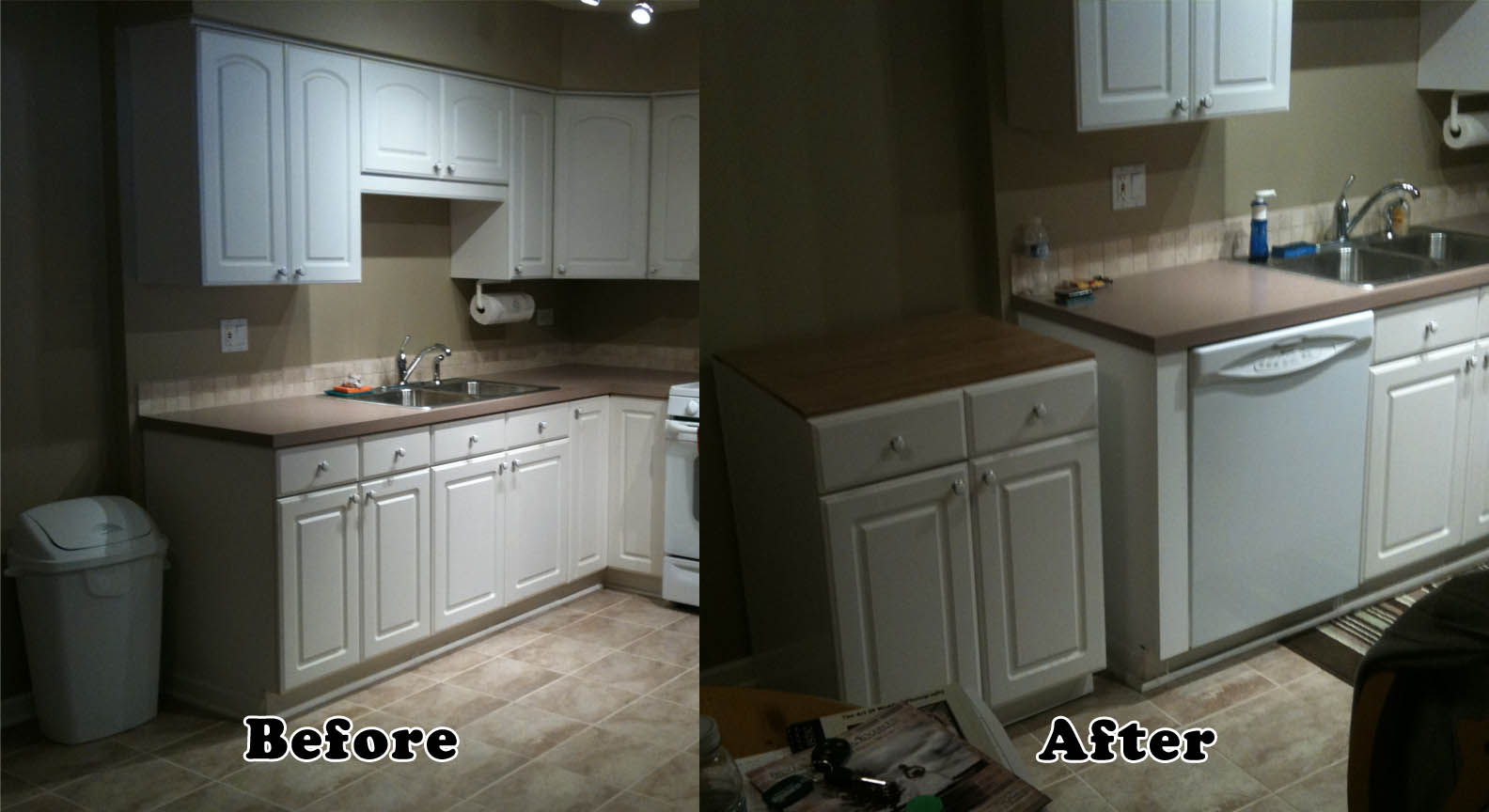 So my house doesn't have a dishwasher. Been living here for a little over 7 months and it is torture to do dishes by hand. We simply do not have an adequate water heater for a dishwasher to work properly. Don't panic guys, I am looking for good tankless water heater installation In the meantime, my fiance lives with me, and does most of the dirty work. Well, to ease her pain, I finally got around to getting a dishwasher installed in the house!
A week ago, Friday, I hit up Home Depot for some materials. Her uncle came by on Saturday and helped me to remove a cabinet next to my sink, install a dishwasher, and build a side panel to cover the exposed side of the dishwasher. We ran into some snags with the electrics but it all turned out ok and we got it done before dinner time.
Basically, it turned out that our electric panel was in need of an upgrade. In case you were not already aware, every electrical panel has a lifespan and will need to be replaced every once in a while to ensure that your home continues to have protection from electrical surges. Knowing How To Tell If It Is Time For An Electrical Panel Upgrade is one of the most important things to consider if you notice any electrical issues. Moreover, although it can be difficult to decide if an upgrade for your electrical panel is right for you, common signs such as flickering lights, overuse of power strips, buzzing sounds, or burning smells can help you know when to call your electrician. So, if you are experiencing any of these issues, you're better off contacting someone like https://acelectrical.ca/services/fuse-to-breaker-upgrades/ to get an upgrade ASAP.
That being said, the next day I hit up Home Depot again after I decided on a plan for the cabinet that we removed. I was quite lucky as we were able to save money on some of the items that we purchased! In fact, we managed to save a significant amount of money by using a coupon that we found online using this website: https://www.raise.com/coupons/home-depot. If you are heading to Home Depot anytime soon, you should definitely take a look to see if you can find a coupon or promo code too. Saving money is always so rewarding!
Anyway, as for the cabinet that we removed I decided I was going to turn it into a rolling island! My fiance got our stuff and she helped me with the project. We added a back to the cabinet, a top, and casters to the bottom. A little caulk, spackle, and some sanding to cover up all the seams and we were done for the evening.
Fast forward to this past weekend. We spent Friday night putting on the base coat (primer) on the new side panel and on the rolling island as well as a first coat of paint. On Saturday we did our second coat of paint and added a little peel and stick cabinet liner to the top of the island. And the project was complete!
In the future we want to get a nice large butcher block to attach to the island, but seeing as they cost a lot, we are going to wait for a little while before we do it.
Below I have a picture of what the kitchen looked like when I first moved in and what it looks like today.